Zerowin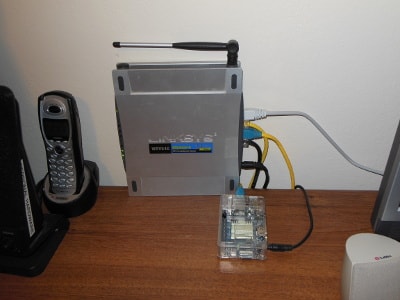 Slowbox and Zerowin
Zerowin is a bot on FICS. It plays chess 24/7 using the stockfish engine to select its moves. Zerowin was created to run strong windows engines in GNU/Linux via Wine, deriving its name from "zero windows". It started on a 2.1 Ghz Athlon XP, but now it runs on ARM hardware using native GNU/Linux binaries. One of the goals is to foster interest in computer chess by providing a decent testbed for other computer accounts. So, Zerowin uses a formula that permits extensive unrated play.
Hardware
1.3 Ghz Orange Pi PC (ARM Cortex-A7, 1GB RAM)
Operating System
Armbian (Debian Jessie)
Software
icsdroneng 0.29
polyglot 1.4.70b
stockfish (bin for ARM Cortex-A7)
Polyglot
Hash: 16 MB
Move Overhead: 1000
Threads: 2
Polyglot Book: performance.bin (aka fruitbook.bin)
Resign: off
Kibitz Interval: 6 sec.
Speed
./stockfish bench
===========================
Total time (ms) : 21181
Nodes searched  : 4059356
Nodes/second    : 191650

History
Oct 07, 2018 Back up running stockfish dev.
Jun 30, 2017 Taken offline. I'm pretty much done with the hobby.
Nov 01, 2016 Updated to Stockfish 8
Jun 30, 2016 2034 days online, 61% since May 2007
Jun 06, 2016 Included binary that Zerowin runs after being told it works for rpi3. Probably requires debian based distro with libc and libc++. Maybe some will find it useful.
Apr 18, 2016 Replaced Orange Pi+ with Orange Pi PC. Same SoC, voltage, and bench. 1.3 Ghz works well, and the PC seems to run cooler. May add cores eventually.
Mar 30, 2016 icsdrone-> 0.29, experimenting with voltage/core speed: 1.3 Ghz (227051 nps bench)
Jan 05, 2016 updated to Stockfish 7
Dec 30, 2015 updated hardware to Orange Pi+ and software to Stockfish7Beta2
Feb 11, 2015 updated to Stockfish 6.
Jun 01, 2014 updated to Stockfish 5.
Feb 14, 2014 Bot temporarily offline, will connect sporadically. 24/7 will resume eventually
Aug 21, 2013 updated to g++-4.8 and stockfish 4 and appears to be another 10% faster.
Nov 16, 2012 updated to icsdroneng 0.28.
Oct 12, 2012 version bumped from 2.3 to 2.3.1. This build is about 8% faster than previous builds due to also upgrading to gcc/g++ 4.7.
Sep 21, 2012 added support for wild games by upgrading icsdroneng to 0.27.
Sep 17, 2012 version bumped from 2.1.1 to 2.3.
Oct 23, 2010 Approved to run Stockfish on the Seagate Dockstar. So most of its archived games are, unfortunately, with a different engine on much faster hardware.
May 15, 2007 Operation began running the hiarcs engine.